Sugar-Sand Castle, Dunes of Seagrove, Vacation Rental
Endorsements
These are a few of pictures I took around the outside and some unsolicited comments received from people who rented from us. As you can see, I'm not a skilled photographer, but the subject material is beautiful.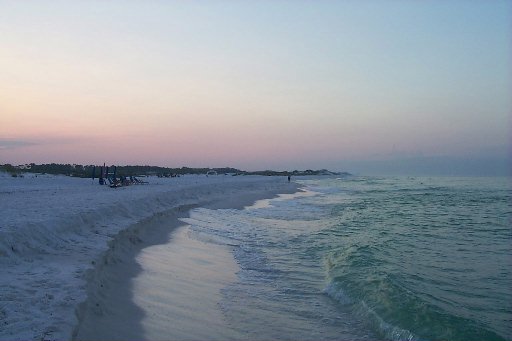 The view from the beach, looking east toward Deer Lake State Park, at sunrise.
---
"What a wonderful week we've had! We had lovely weather every day except one and that gave us the perfect excuse for the Gulfarium in Fort Walton. Our son turned 11, so we had a great beach birthday and a wonderful dinner at Bud and Ally's. We enjoyed long walks on the beach, dolphin watching, and beautiful sunsets as well as sand castles and many games of Frisbee. A perfect relaxing week. We look forward to next year!"
---
"We had a wonderful time at your condo. The beach is terrific and the weather was great. This was our first time in this area and we loved it. You are very fortunate to own a piece of this paradise. Thanks for sharing it with us."
---
"I am back to work today. (Yuck). Just wanted to let you know we had the most wonderful time in Florida. The week went waaaaaay too fast. Because the week was darn near perfect, we left Saturday morning feeling sad that the week was over. The weather was great. We ate at some fabulous restaurants and your place is ideal. We were extremely happy with the accommodations. A couple of mornings, we were even able to spot dolphins. But most of all, we loved the solitude of the beach. You have a wonderful location. We noticed how crowded the beaches were in Destin - but not where you are. That was great. We loved watching the magnificent sunsets on the beach. We would like to return. Thanks for everything and we will be contacting you next year for another week in paradise."
---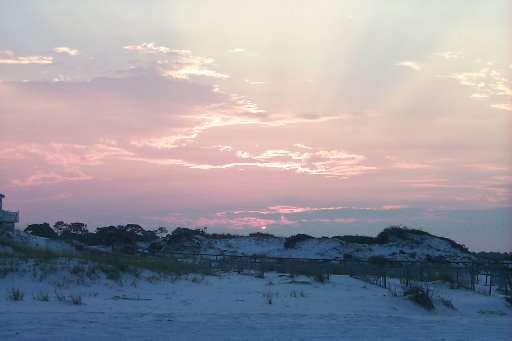 Sunrise above the dunes.
---
"We enjoyed Easter weekend at your condo. The weather was great and the Gulf is absolutely beautiful here! We're looking forward to coming back soon."
---
"We've had a wonderful week in your beautiful condo. The view is gorgeous! We couldn't have asked for more beautiful weather. Our son celebrated his 6th birthday and it was our daughter's first trip to the beach. She loved it! My husband discovered kayaks and spent the last two days kayaking in the ocean. Thanks for sharing it with us and we are looking forward to coming back soon."
---
"We have been to Panama City before, but never stayed here at Seagrove Beach. It was very beautiful. We liked how peaceful it was."
---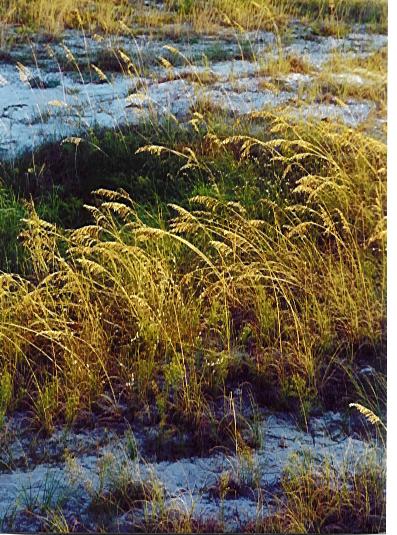 Grass and sea oats.
---
"Thank you for sharing this beautiful spot. The weather has been great. It is interesting to notice that it is constantly changing and always beautiful. It is peaceful and relaxing - a place for healing. The condo is lovely and so well furnished - we didn't need a thing. We look forward to spending more time here."
---
"What a beautiful place to relax and play and enjoy God's creation. We had wonderful walks, swims, naps, surfs, and sand castle building."
---
"We are so relaxed and rested after spending the week in 'paradise'. Saddened to leave all this. The weather was absolutely perfect every day. The lack of beach crowds as we observed in Destin and Panama City Beach was a big plus! Very impressed with Seagrove Beach area. Looking forward to returning."
---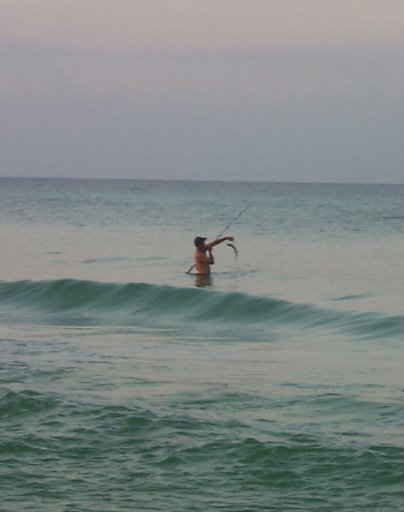 A early morning fisherman in the surf.
---
"Thanks for such a wonderful getaway! We had a great time. We found some little bitty sand dollars and had some fun with the crabs! Beats the hell out of work!"
---
"Well, we have just returned from one of our best vacations in Florida :-). The townhouse was great. It was very nice, the way you and your wife have it decorated and furnished. The kids had a great time also. We went to several places, including Destin, and Panama City, even the little shopping area in Seagrove. Went on a dolphin cruise, which the kids really liked. I'm going keep your email in my address book for next year! Thanks for a great opportunity to spend our vacation at your place."
---
"We all fell in love with this glorious place. The layout of your condo is perfect for families. Our 2-year old son lost his fear of waves. I can't get over the clean, white powder sand that reminds me of snow, especially at night. Thank you for a lovely time in your beautiful piece of paradise."
---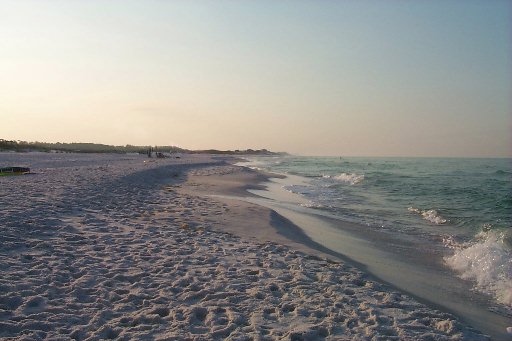 A last look at the beach before heading home.
---
"This place is utterly fantastic! Great condo with a perfect location. We absolutely enjoyed our stay and hope we can return."
---
Owner's note: Renters record their thoughts (and read the writings of previous renters) in our renters' diary, kept at our Dunes of Seagrove condominium. We also receive email comments.